Teaching Traditional Martial Arts / Self-Defense since 1978
Red Belt & Dan Workout
Carthage, Texas
March 21, 22 & 23, 2014
See Regional Events for Registration Form
Sign up for Video's of all Soo Bahk Do Material

Click on the link Below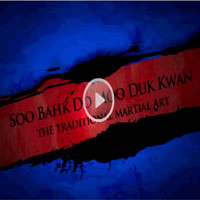 Soo Bahk Do™ Moo Duk Kwan™ Houston
12240 Murphy Road Suite J, Stafford, Texas
Phone: (281) 983-9901
Email: SooBahkDoHouston@gmail.com
Click Above for Map

A Southwest Martial Arts School serving Houston; Sugarland; Missouri City; Stafford; Bellaire; Richmond; Rosenberg; Meadows Place
After school programs have been in place at the following:
Cornerstone Christian Academy (Sugarland); Southminster Presbyterian Church (Missouri City);
Parker Elementary School (Houston); Herod Elementary School (Houston); Kate Bell Elementary School (Houston);
T.H. Rogers Elementary School (Houston)
Accredited Course at Houston Community College


Soo Bahk Do Houston is part of a greater world wide organization. Through the U.S. Soo Bahk Do Moo Duk Kwan Federation, we are part of the World Moo Duk Kwan Federation. With studios in most states and all six major continents, Moo Duk Kwan members have the ability to train with and make friends with people from all over the world.
Soo Bahk Do is a traditional Martial Arts program that helps improve confidence, increase focus and develop self control and discipline. These are important for everyone, adults, children and teenagers alike - but especially for children.
We have a safe, fun environment where they can learn to make positive choices, get physically fit and develop life skills that will last a lifetime.
Self-defense is a countermeasure that involves defending oneself, one's property or the well-being of another from physical harm. The use of the right of self-defense as a legal justification for the use of force in times of danger.
Many styles of martial arts are practiced for self-defense or include self-defense techniques. Some styles (Soo Bahk Do Moo Duk Kwan) train primarily for self-defense, while other martial/Combat sports can be effectively applied for self-defense. To provide more practical self-defense, many modern day martial arts schools now use a combination of martial arts styles and techniques, and will often customize self-defence training to suit the participants' lifestyles, occupations, age groups and gender.
The best Unarmed Defense Techniques(UDT) are often a handful of simple gross motor skills that are used to 'bash and dash' rather than highly complex fine motor skills that deteriorate under stress. Learning UDT is about increasing confidence and awareness not about 'beating' an attacker. Good UDT lessons will teach simple, high impact techniques to momentarily distract or off-balance an attacker so a victim can get away.
Martial arts or fighting arts are systems of codified practices and traditions of Combat. Martial arts all have a very similar objective: defend oneself or others from physical threat. Martial arts are considered as both an art and a science.
Karate was developed from indigenous fighting methods called te (literally "hand"). Karate is a striking art using punching, kicking, knee and elbow strikes, and open-handed techniques such as knife-hands (karate chop). Grappling, locks, restraints, throws, and vital point strikes are taught in some styles. For many practitioners, karate is a deeply philosophical practice. Karate-do teaches ethical principles and can have spiritual significance to its adherents.Soo Bahk Do
Soo Bahk Do is the name of the martial art founded and taught by Kwan Jang Nim Hwang Kee, his successor Hwang Hyun Chul, known as H.C. Hwang, and instructors who are certified by member organizations of the World Moo Duk Kwan, Inc.
History
In Korea the indigenous arts of self defense (Soo Bahk Ki and Tae Kyun) were combined with other fighting principles (Northern and Southern Chinese Kung Fu) and moral guidelines such as the philosophy of Do (Tao), No Ja (Lao Tzu) and Kong Ja (Confucius) by Founder Hwang Kee, into what is now known as Soo Bahk Do (Tang Soo Do) Moo Duk Kwan. When developing the martial art, Hwang Kee drew heavily on the the Muye Dobo Tongji, ancient text published in 1790 that translates as The Comprehensive Illustrated Manual of the Martial Arts of Ancient Korea.
Hwang Kee created the Moo Duk Kwan on November 9, 1945. Hwang Kee was first inspired to study the Martial arts in 1921 when he was about seven years old. At a traditional Festival called "Dan O" he was visiting a nearby village, where they had archery, wrestling and many other festivities. As Kee was enjoying the festival, a group of seven or eight men had a dispute with another man. Suddenly the group of men attacked the lone man, who began evading and counter attacking with his feet, and standing in a doorway as to fight one man at a time, eventually defeating the group of men. This ability to defend oneself against several attackers so impressed Hwang Kee that at that moment he knew he wanted to learn the martial arts.
For several years Hwang Kee studied and researched many sources. At the age of 22 some claim he was recognized as a Master. In May 1935 Hwang Kee began working for the Korean railroad company which allowed him to travel. In May 1936 he met a Chinese Kung Fu master named Yang, Kuk Jin. Kee trained with Yang until 1946. At that time China was experiencing a communist revolution. The training consisted of Seh Bop (postures), Bo Bop (steps), Ryun Bop (conditioning) and Hyung (Forms) with their applications. November 9th 1945 Hwang Kee founded the Moo Duk Kwan. The basic ideal of the Moo Duk Kwan is the development of its participants. Strong individuals in Spirit and Body make strong communities, strong communities make strong nations, Strong and peaceful nations make a strong and peaceful world. In 1957, Kee made a discovery of Soo Bahk, a true Korean martial art, from Muye Dobo Tongji. Kee developed the Soo Bahk system to be studied through the Moo Duk Kwan. He chose the name Soo Bahk Do, a derivative of Soo Bahk Ki, hand striking technique, and Soo Bahk Hee, hand striking dance, which were detailed in the Muye Dobo Tongji. In 1960, the Korean Soo Bahk Do Association was incorporated and officially registered with the Korean government as the traditional Korean martial art.
Belt Rankings
Soo Bahk Do Moo Duk Kwan has five belt rankings:
1. White Belt - The white belt represents winter. Potential and skills are hidden under the pure white snow. This rank is generally assigned to beginners until three months of training.
2. Orange Belt - The orange belt is an acknowledgment of development and hard work. This rank is generally assigned to students with three months to a year of training.
3. Green Belt - The green belt symbolizes spring. The student has begun to study jump and spinning kick techniques. This rank is generally assigned to students with six months to one year of training.
4. Red Belt - The red belt represents summer. Advance kicking techniques and combination attacks are part of the training. This rank is generally assigned to students with one to two years of training.
5. Midnight Blue belt - The midnight blue belt, also known as the Dan level, signifies autumn. The student's training is intensified. Combination strikes, mastering self-defense techniques and developing a spiritual connection with the martial art are requisites. This rank generally takes four years to achieve.

Rank in Soo Bahk Do is a privilege despite age or physical ability. It is a marker of mental and physical credential cultivated from years or decades of training under the direction of certified instructors. Students and parents alike can expect a journey that will take them to new levels of self-confidence, positive self-esteem, mental and physical wellbeing and above all membership in a worldwide organization the Soo Bahk Do Moo Duk Kwan Federation. Through consistent Soo Bahk Do training and marked progress, students are invited to "test" for rank promotion. Candidates are required to own a uniform a belt and join the "Federation" before their first test. The Federation is the administrative arm of our Art that documents test certifications and coordinates a host of other regional/national endeavors. Studio "Gup tests" are usually conducted one Saturday of each month at the discretion of the studio owner. Students start at white belt, 10th gup and progress to orange, green and red belt earning stripes between each gup level to 1st gup and black belt candidacy. Gup test candidates are eligible to test a minimum of three month after their last examination by invitation. There are no age requirements therefore students who assert themselves are eligible for Cho Dan (black belt) candidacy as their progress and certified instructors permit. In general, students require at least 5 years of continuous training and Presidents Vision Tour (PVT) participation to reach the level of black belt in Soo Bahk Do.
Eight Key Concepts
Soo Bahk Do Moo Duk Kwan proffers eight key concepts for martial arts training.
| | |
| --- | --- |
| Key concept | Translation |
| Yong Gi | Courage |
| Chung Shin Tong Il | Concentration |
| In Neh | Endurance |
| Chung Jik | Honesty |
| Kyum Son | Humility |
| Him Cho Chung | Control of Power |
| Shin Chook | Tension and Relaxation |
| Wan Gup () | Speed Control |
Ten Articles of Faith
Soo Bahk Do Moo Duk Kwan holds ten articles of faith in practice of martial discipline and practical life.
Article
1. Be loyal to one's country
2. Be obedient to one's parents and elders
3. Be loving to one's husband or wife
4. Be cooperative to your brothers
5. Be respectful to elders
6. Be faithful to your teacher
7. Be faithful to friends
8. Face combat only in justice and with honor
9. Never retreat in battle
10. Always finish what you start
Hits:
Dan Shim Sa @ Vance Air Force Base May 4, 2013
Clinic Held in Carthage, Tx. October 2009 (Below)
July 14, 2007 Gup Shim Sa (Below)